CO's Corner


Flt Lt Phil Powell


We have had quite a few new cadets join us over the past few months and it is always a welcome sight to see new faces on parade. Julia Powell has worked hard to kit out everyone with uniform (both blue and green) but if you are waiting for an item in your size then please bear with us. If you do have existing uniform that needs replacing because it is too large, small or damaged then please don't wait until the next inspection night. Mrs. Powell is available on Squadron nights to replace any item if it is in stock or order a replacement from St.Mawgan for you if not.
EASTER CAMP by Flt Lt Powell

In April, 13 Cadets and 3 staff from the flight attended Easter Camp at RAF Stafford together with other Cadets from Devon Wing. Activities that were arranged included adventure training, a night exercise, a visit to the aerospace museum, target shooting with the Mk8 .22 and L98 weapons and air experience flights in the Bulldog aircraft which are based at Cosford. The Cadets also went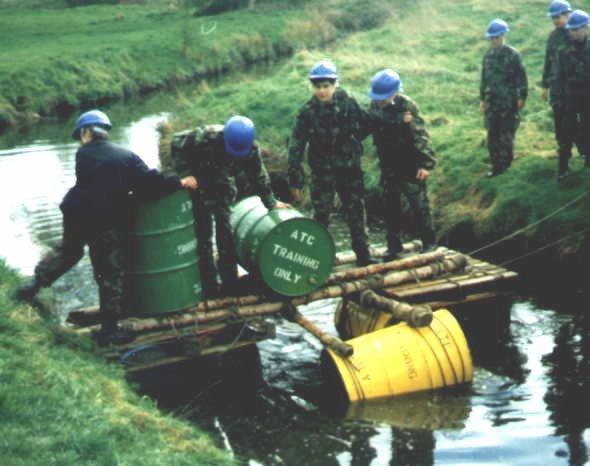 on the assault course at the nearby Army Camp and various section visits around the Camp including Tactical Supply Wing and the RAF's Mountain Rescue Team. This gave the Cadets a wide and varied view of RAF life. It was not all hard work though, with a day being spent at the nearby Alton Towers. My memories of the 8 day camp, well, I've not been the same since the ride on 'Oblivion' at Alton Towers (never again!) and the marvelous end of week 'Sods Opera' by the cadets with Cdt Matthew Rumble hosting a staff 'blind date' dressed up as Cilla Black. The photo shows some cadets solving an initiative exercise.
We have great pleasure in announcing the Cadet awards for 1999:

Boot Trophy: Best Boots - Cpl Jordan
Blade Trophy: Best Cadet - Cdt Green
Mortar Bomb: Sport - Cpl Rafferty
Shooting Shield - Cdt Shearsby
Cadet of the Year - Cdt Barney

These awards will be presented at our open day on May 16th