WHAT IS IT?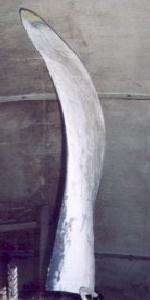 It's competition time again and we want to know what this is a picture of. Write your answers, funny or otherwise, on a piece of paper with your name on it and hand it in to the admin office.
MMMMM... SMELLS LOVELY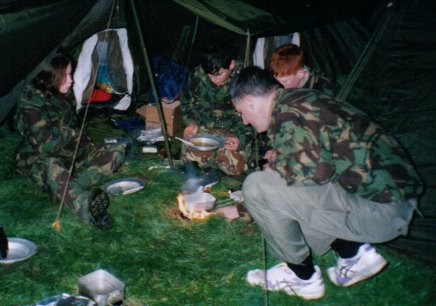 It was cold, dark, windy and wet. But that didn't stop 20 of Chivenor's cadets and two members of staff camping out for the night at the airfield. The Saturday afternoon was fine. A little cold, maybe, but dry. Everyone lined up to be issued with their tent, plate, cutlery, mess tins, ration packs and, most importantly, a camp stove to cook on. The hard work started straight away with everyone giving a hand to put the tents up (with a few personal modifications). Then it was down to cooking tea. The ration packs provided a varied choice of meal before setting off on the night exercise. Then it was a hot cup of soup before bed. The endless chattering did keep one or two awake during the night (and it wasn't from the sparrows!). It was up nice and early to the sound of rain pounding on the tents as everyone made breakfast. The Sunday was spent on the rifle range before returning to dismantle the tents. The weekend gave some cadets their first taste of a night under canvas and the general view was that the weekend was fun. It is hoped that there will be more camp-outs in the future - hopefully the weather will be a lot drier then.
Wow - someone's had a night on the town. Is this our very own Sgt Furneaux or Neil from The Young Ones?
SPORTS REPORT
By Cdt Sgt Powell
On Sunday 28th Feb I travelled to Boscombe Down to represent Devon Wing in the senior hockey team. It was the first round of the Inter-Wing Championship and we played against Dorset and Wiltshire Wing. The half-time score was 10-0 and the full-time score 16-0 to Devon. 7 out of the 11 players scored goals and this result takes us through to the 2nd round which is at RAF Lyneham on 21st March.